Shippimg cost :

Shipping charges 9% ( minimun 60 € 1 )
Le spese di spedizione equivale all' 9% sul valore dell'acquisto (spesa minima conteggiata 60,00 euro); la merce si intende consegnata a destinazione con scarico a terra da corriere. Per zone disagiate, isole, centri storici , prego specificare nell'ordine.

Note:
Once the purchase has been made, a note field will open where you can write the chosen colors and your needs.

Consegna:
Delivey in 3-4 week. For emergencies or hurry, specify your needs..

N.B.
La merce viene spedita sempre assicurata, controllare allo scarico danni trasporto o firmare con riserva di controllo , per esmpio per scatola danneggiata. In questo caso la merce viene cambiata senza spesa aggiuntiva.
Danni o graffi riscontrati dopo senza la firma di riserva non saranno assicurati e risarciti.

Important for insurance transport :
-check the goods for insurance ( the courier insurance )
-check any goods or accept with " reserve to control for demage box"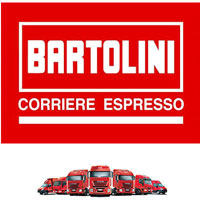 Bartolini è un corriere veloce e affidabile, specializzato nella consegna di diverse tipologie di spedizioni e nella fornitura di servizi logistici di supporto alla movimentazione ed alla distribuzione delle merci.

La Bartolini è un'azienda flessibile e diversificata in grado di soddisfare le esigenze distributive dei clienti più esigenti.
Il pagamento può essere effettuato:
1-bonifico Bancario
2- credit card



Dopo l'acquisto Vi saranno inviate tutte le coordinate necessarie per effettuare il pagamento nella conferma d'ordine.